Salamureci Restaurant
"Simplicity…the most important ingredient of our kitchen"
The best restaurant in Trapani where you can taste our tradition
Salamureci is among the best restaurants to eat in Trapani thanks to the wide offer of traditional dishes
In addition to the inside space of the restaurant, it has an attractive cloister which is perfect for outdoor lunches and dinners.
Appreciated by tourists who want to know the flavors of Sicily, the restaurant Salamureci is also popular by locals looking for a quiet and refined location where to taste delicious dishes based on fresh fish.
The restaurant offers a 10% discount for guests staying at the guest house.
The menu of Salamureci, rich and genuine, makes it one of the best restaurants in Trapani as it reflects the typical culinary tradition adding a touch of modernity and creativity.
Attentive to the raw materials and the quality of the fish, always fresh, the dishes offered will satisfy even the most demanding palates. In addition to the excellent fish and ground courses, Michele Bellezza, Chef of Salamureci, offers the real Sicilian Cous Cous in various versions and condiments.
At the restaurant you can also request Gluten Free or in compliance with special dietary needs. The menu also includes vegetarian dishes.
The dishes created by Chef Patron Michele Bellezza are seasoned and cooked with Extra Virgin Olive Oil in the Intenso and Delicato varieties of the "Terre di Shemir Farm".
In preparing our dishes the chef exclusively uses:
Sea Salt of Trapani I.G.P.

Red Nubian Garlic

Cheese from Belice

Capers of Pantelleria

Pistachios from Bronte

Avola almonds

Leonforte beans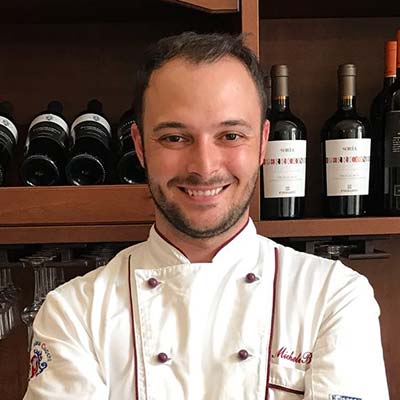 Chef Michele Bellezza
Tasting Menù
Tasting Menù

The historical dishes of our Chef Bellezza, 2 appetizers, 1 first course, 1 second course and a dessert

60,00 €
Entry Dishes
First dishes
Second dishes
Side Dishes
Mixed salad

Iceberg lettuce, radicchio, cherry tomatoes

4,00 €

Mediterranean salad

Onion, Olives, Potatoes, Oregano, Tomatoes, Capers

6,00 €

Baked potatoes

4,00 €

Grilled vegetables

Aubergines, courgettes, radicchio

4,00 €
Dessert
Sicilian Cassata with ricotta cheese

6,00 €

Chocolate semifreddo

Crunchy chocolate, Bavarian hazelnut, Bavarian dark chocolate and sponge cake with cocoa, chocolate glaze

6,00 €

Ricotta chees cannolo

4,00 €

Almond parfait

6,00 €

Pistachios parfait

6,00 €

Lemon sorbet

4,00 €

Sgroppino (Lemon Sorbet with Vodka)

5,00 €

Cassata All'Arancia

Cassata All'Arancia

6,00 €
Fruit
Drinks
Filette Water

Natural, Sparkling, Definitely Sparkling.

4,00 €

Natural Water, Sparkling Water, Ferrarelle

glass bottle cl 75

3,00 €

Panna Water

3,50 €

San Pellegrino Water

3,50 €

Coca Cola

glass bottle 1 l

4,00 €

Nastro Azzurro Beer 33 cl

3,00 €

Heineken Beer 33 cl

3,00 €
Coffee products and liquors
Espresso Coffee | Decaffeinated coffee | Macchiato Coffee | Double Coffee

1,50 €

Coffee with Grappa or Sambuca Molinari

2,50 €

Cappuccino | Hot milk | Milk with Coffee

2,50 €

A selection of Teas

2,00 €
White Wines
Red Wines
Bubbles & Champagne
Alessandro Di Camporeale

Metodo Classico - Catarratto Spumante extra Brut

40,00 €

Bellavista Franciacorta Brut

Bellavista Franciacorta Brut - 80% Chardonnay, 19% Pinot Nero e 1% Pinot Bianco

45,00 €

Castellucci Miano

Castelluccimiano Brut - cataratto

30,00 €

Donnafugata Brut

Spumante Metodo Classico - Chardonnay, Pinot Nero

40,00 €

Federico II Rex Sicilie

Spumante Millesimato Riserva Milazzo - Chardonnay

80,00 €

Gaudensius Blancs De Blancs Brut

Firriato - Carricante

40,00 €

Metodo Classico Almerita Brut

Metodo Classico Almerita Spumante Brut - Tenute Regaleali Tasca D'Almerita - Chardonnay

60,00 €

Metodo Classico Milazzo Brut - Chardonnay e Inzolia

Spumante Brut

40,00 €

Terzavia - Marco De Bartoli

Spumante Metodo Classico Brut Nature "Terzavia" - Grillo 100%

40,00 €

Moet & Chandon Reserve Imperiale

Champagne Brut 'Reserve Imperiale' Moet & Chandon - pinot nero 40%, pinot meunier 30%, chardonnay 30%

60,00 €

Veuvev Cliquot

Champagne Brut Yellow Label - Veuve Clicquot - pinot nero 50%, pinot meunier 30%, chardonnay 20%

70,00 €

Ruinart - Blanc De Blancs

Champagne Brut Blanc de Blancs - Ruinart - Chardonnay 100%

90,00 €

SPUMANTE BRUT ROSÉ "EUPHORYA"

Casa di Grazia - Frappato 100%

30,00 €

Riserva V38 AG

Milazzo - Metodo Classico Brut Chardonnay Inzolia

50,00 €

Cà Del Bosco - Franciacorta Satèn Millesimato

Chardonnay 85%, Pinot Bianco 15%.

80,00 €

Foderà Metodo Classico Brut

Grillo 100%

40,00 €

Foderà Eva

Spumante Brut Metodo Ancestrale - Grillo 100%

25,00 €

Fushà Brut Rosè

Baglio di Pianetto Metodo Charmat - Inzolia Biologico

25,00 €

Donnafugata Brut Rosé

Pinot Nero

40,00 €

Nerello Mascalese Rosè Spumante Extra Dry - Fazio

Nerello Mascalese Rosè

25,00 €

Saint Germain - Firriato

Grillo e Cataratto

30,00 €

Lulù - Fondo Antico

Brut Sparkling Wine - Grillo and Zibibbo

20,00 €

TERRE DELLA BARONIA GRAN CUVÉE - METODO CLASSICO BRUT

Milazzo - Chardonnay dominante e alcuni biotipi di Inzolia

50,00 €

Contessa Franca Extra Brut

Tasca D'Almerita -Vino Spumante extra brut Chardonnay

120,00 €

Tasca d'Almerita Rosè

Chardonnay

50,00 €
Spirits and Dessert Wines